Dentures

For our patients who may not be good candidates for dental implants or would prefer a less expensive option, we also offer high-quality full and partial dentures at our Central Pattaya Dental Center.

Partial Dentures

Partial dentures can replace a section of missing teeth when the patient still has some or most of his natural teeth. Unlike a bridge, which is fixed in the mouth, dentures can be removed for cleaning and left out while the patient sleeps.

Your missing teeth are replaced by the teeth on the partial denture. The partial denture than attaches to your natural teeth with metal or acrylic clasps. These clasps are hook-like structures that help hold it in place.

A partial denture can be made when one or more of your natural teeth remain in your upper or lower jaw to anchor the partial to. This removable partial usually consist of replacement teeth attached to pink or gum-colored plastic bases, which are connected by a metal framework or a new nylon foundation called Valplast.

Valplast

Today's dentists are prescribing flexible material for removable partial dentures (RPDs) because it makes a better, stronger appliance faster. Flexible material reduces chair time, eliminates invasive procedures and the cumbersome materials associated with rigid partials. In short, there is no longer any need for metal. Metal-based RPD design is complex because it has to adapt rigid materials to a flexible environment. This leaves room for error particularly under conditions where ideal designs and clinical preparations are challenged. In contrast, the material in flexible partials is perfectly…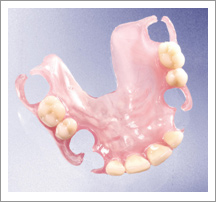 What are Partial Dentures?
Partial Dentures are removable dental appliances used to replace missing teeth.
Partial Dentures can be made with acrylic resin, various types of metal or a combination of metal and acrylic resin.

Partial Dentures can be attached to implants for better comfort when chewing. With implant supported dentures you never have to worry about loose or poor fitting dentures.

Procedure Overview:
The doctor performs a complete examination. If necessary, remaining teeth are extracted. An impression is taken to send to the lab for fabrication. When the dentures have returned from the lab, the doctor will adjust and fit them. The doctor provides post-procedural instructions on how to care for your new dentures.

Are you a good candidate?

๏ฟฝ You have lost most or all of your teeth.
๏ฟฝ You are in good health.
๏ฟฝ You have healthy gums.
๏ฟฝ You have a good understanding of the procedure.

Adventures of partial denture


๏ฟฝ Replace missing teeth to restore your attractive smile
๏ฟฝ Prevent drifting of teeth
๏ฟฝ Improve your bite and speech
๏ฟฝ Make chewing easier and more comfortable.
Full Dentures

Full dentures replace all of the teeth in a patient๏ฟฝs mouth. They are made and cared for just like partial dentures but may take more time to get used to. Patients who have full dentures usually have trouble speaking and chewing when they first begin wearing them. Dentists recommend starting with soft foods that are easy to chew and then slowly working up to a normal diet. Sometimes reading aloud helps patients get used to their new way of speaking.

Care of your denture:
Dentures today are made from very advanced materials designed to give you a natural appearance.
Just like natural teeth, dentures need to be cleansed of plaque, food particles and other debris. Keeping your dentures in top shape will also help keep the soft tissues of your mouth healthy; an unclean or malformed denture can cause infections and irritation.
Remember to rinse and brush your dentures after every meal, and soak them in denture solution overnight. This also allows your gums to breathe while you sleep.
However, keep in mind that just like your teeth, dentures should be cared for with diligence. This means daily brushing and regular visits to your dentist for minor adjustments.
Here are some simple techniques for keeping your dentures clean:


Hold your dentures gently to avoid loosening a tooth.

Clean your dentures with cool or tepid water over a water-filled sink. Hot water may warp a denture. A small washcloth placed in the bottom of the bowl will ensure that your denture isn๏ฟฝt damaged if it falls.

People can brush their dentures in a variety of ways. Some people use soap and water or a slightly abrasive toothpaste. Popular denture pastes and creams also can be used.

Avoid using highly abrasive chemicals or pastes, or vigorously brushing with hard bristled toothbrushes. These can scratch or even crack dentures.

Use a separate toothbrush to clean your natural teeth. In lieu of a toothbrush, a soft washcloth may be used for gums.
Over time, even daily care of your dentures may require them to be cleaned by the dentist. A powerful ultrasonic cleaner may be used to remove hard accumulations of tartar and other substances.

Soak your dentures overnight in any commercially available product like Efferdent or Polident and remember to rinse your dentures before placing them back in your mouth.
* Leaving the dentures out overnight allows the mouth to rest, gives tissues a chance to recover and regenerate, and prevents fungal infection
Note: Today high quality acrylic resins are used in the making of artificial teeth, and are much stronger, more attractive, and wear resistant than was once possible. They easily last between five and eight years. Porcelain is also used as a tooth material because it looks more like natural tooth enamel. Porcelain is used particularly for upper front teeth, which are the most visible. However, the pressure of biting and chewing with porcelain teeth can wear away and damage natural teeth. Therefore, porcelain teeth should not be used in partial dentures where they will contact natural teeth during chewing.